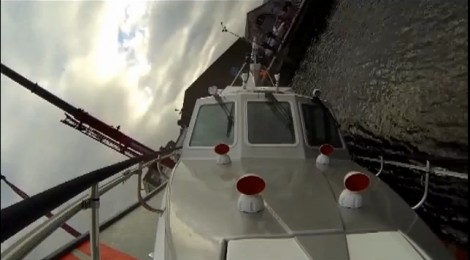 Safehaven Marine undertake live (manned) self-righting roll over test
Safehaven Marine, specialist builders of pilot boats and rescue vessels have undertaken probably an industry first, by capsizing their latest Interceptor 48 Pilot / S.A.R. vessel in a live condition with two crew inside during the roll over. In the ultimate expression of confidence in the vessels design and integrity, Safehaven's managing director and designer, Frank Kowalski, volunteered to be inside the vessel during the roll over. Strapped in with a full harness at her helm position he commented "it was a bit stressful when she was over at 90 degrees about to go over, and the motion past 180 during recovery was pretty violent, but it went off without a problem".
There are 6 Air-Only Dorade vents.